It's no secret: credit card points can be a lot more fun to collect than airline miles, and with greater flexibility for spending them, there's even more fun to be had when you cash in.
The great value of credit card points comes via the numerous airline transfer partners which allow you to convert your credit card points into airline miles in the blink of an eye, whereas earning miles with one airline locks you into just one program with limited opportunities. Today, we're going to look at 10 brilliant ways you can use US Amex Membership Rewards Points, by transferring them to a variety of great partners.
There are tons of different ways to redeem Amex points for amazing luxury travel, but these ten are absolutely perfect ways to show you what's really possible, if you take the time to learn just a little bit about the transfer partners at your disposal. Yes, it's is worth it.
If you need to earn more Membership Rewards points first, you have plenty of options (Learn More).
ANA First Class Via Virgin Atlantic Flying Club
Let's be honest, ANA first class is simply extraordinary.
From Krug champagne to the exclusive first class check-in at Tokyo Narita to the top-notch service throughout your flight, there's so much to love with ANA First Class. What could make this experience even better? Well, booking a round-trip ticket for 110,000 – 120,000 Virgin Atlantic Flying Club Miles from the Europe or the USA to Tokyo is a good start. And you can even open jaw to see Europe, Tokyo and the USA on one ticket.
Carrier-imposed surcharges with ANA have gone up to $350 for the round-trip. Still, not bad for first class!
Flying Blue Promo Awards
Every month, Flying Blue releases Promo Awards and I immediately check to see if they're offering discounted business class awards to North America. Many of these promos work for flights on both Air France and KLM which gives you plenty of options.
You can often find 25% off awards but you'll also find some excellent 50% discounts on occasion. If you really want to get the most bang for your buck, don't book a non-stop to Paris or Amsterdam. That's because Flying Blue's point-to-point award chart makes including a connection an even better deal.
We particularly like the option to book flights to Budapest, Dublin, Munich, Prague, and Tel Aviv. With a 25% discount, you can book a one-way business class award for 39,750 Flying Blue miles, or often as low as 32,000. If you really want next-level, a 50% discount gets that down to only 26,500 miles.
Surcharges on a one-way award are around $200, which makes it a great deal all considered.
Here are some other amazing ways to redeem Flying Blue miles!
Royal Air Maroc Business Class Via Etihad Guest
Royal Air Maroc is often overlooked as people think it's only good for flying to Morrocco. If you think this, you're quite simply wrong. Not only do they fly a Dreamliner to/from the U.S., but you can connect to other African countries, Europe, or the Middle East.
Currently, they only operate flights out of New York and Washington, D.C. but they'll soon add flights out of Boston (June 22, 2019) and Miami (April 2, 2019).
At 44,000 Etihad Guest miles for a one-way business class award, you don't let this opportunity slip past your radar. The taxes/fees are quite reasonable as well so that shouldn't be an issue.
Lufthansa First Class Via Avianca LifeMiles
While we might not all get celebrity treatment like the Private Suite in LAX offers, flying Lufthansa first class out of Frankfurt is still out of this world, and pretty close. The toughest part about booking it is that they don't release space to airline partners like Avianca until 14 days from departure.
While you can't do anything about the availability, you can book your one-way flight to Europe with 87,000 Avianca LifeMiles, making it a great redemption rate with no added surcharges of note.
We'll try to avoid turning this into a love letter but let's just review what the experience includes. We'll start with the lounge/on the ground:
First Class Terminal (FCT) access — when a lounge just isn't enough
Personal Assistant (PA) at the lounge to ensure a great visit
A la carte and buffet dining
Massive selection at the bar
Champagne list
Cigar bar
Showers and bathtubs — plus the famous rubber ducky collectible
Porsche ride from the FCT and escort to your flight
Once onboard, the fun continues with champagne, caviar, a great meal, and comfortable bedding when you're ready to take a nap. It really is hard to go wrong with Lufthansa first class.
Star Alliance Around The World Via ANA Mileage Club
We absolutely love the idea of booking a business class adventure around the world on some of the best airlines Star Alliance has to offer. From ANA's own flights to the ever-impressive EVA Air business class, you're bound to have some amazing inflight experiences.
The highlights are simple yet amazing. You can include 8 stopovers on your journey and hit up some amazing destinations like Kyoto, Singapore, and Vancouver.
ANA's Round The World (RTW) award chart is distance-based so the number of miles you fly will dictate the number of miles you need. Make sure you lock that in before transferring Membership Rewards points. Just remember that ANA Mileage Club will only allow you to book for yourself and family members.
If you want to book one of these, make sure you read our complete guide which walks you through all the info you need to know.
Cathay Pacific Business Class Via Asia Miles
When booking award flights on Cathay Pacific, many think of using American miles or Alaska miles and that's it. However, we don't think you should overlook using Cathay Pacific's own Asia Miles program when booking business class.
Cathay uses a distance-based award chart with flights that travel over 7,501 flight miles requiring 85,000 Asia Miles one-way. Yes, that's more than American requires, (70,000 miles) or Alaska requires (50,000 miles). However, Amex Membership Rewards points are easier to earn for many people.
For your trouble, you'll get a great business class flight to Hong Kong on Cathay Pacific. If you're flying out of Hong Kong, you can also visit one of several great business class lounges where you can have a nice meal and a refreshing shower.
However, you can do even more with Asia Miles. Rather than simply fly to Hong Kong, you could make it a stopover and continue onto another destination such as Sydney, South Africa, Dubai and many more. All of this can be done for that same 85,000 Asia Miles.
The taxes/fees on this one won't be too bad either.
SkyTeam Around The World Via Aeromexico Club Premier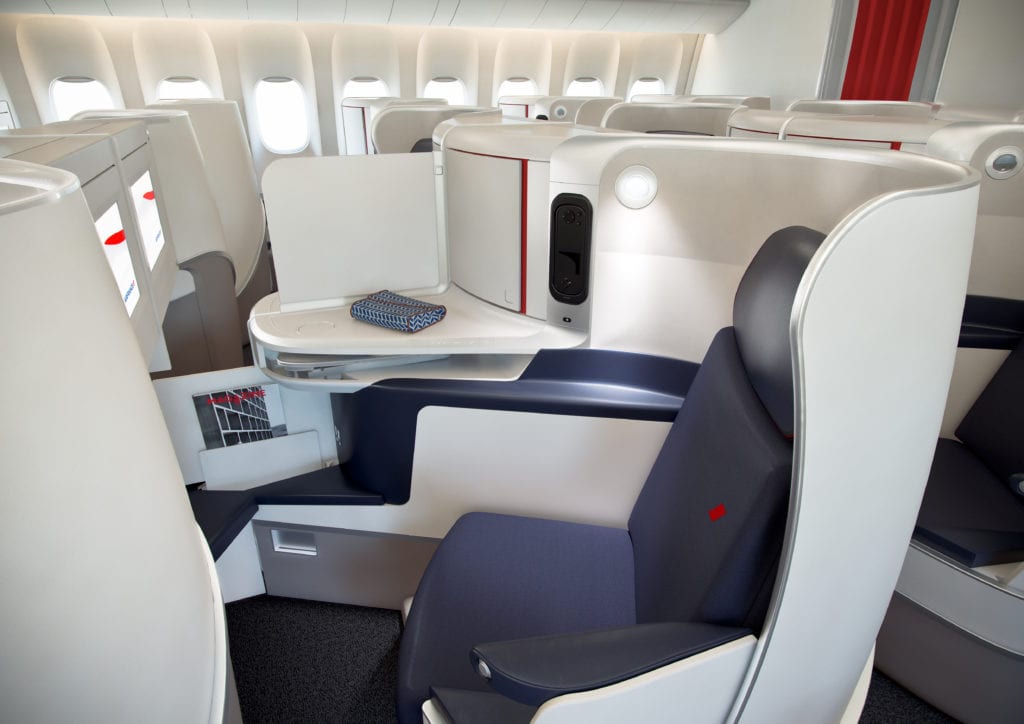 Another around the world option, and one you probably haven't thought about much, is Aeromexico's SkyTeam option. What makes this particular around the world option so special is that you can include 15 stops during your trip — that's insane!
To book one of these, you'll need 352,000 Club Premier kilometers. Don't worry, Amex transfers to Aeromexico at a 1.6:1 ratio so you'll only need 220,000 Membership Rewards points.
For your effort, you'll have the chance to fly Aeromexico's Dreamliner, Korean Air, Air France, KLM, China Airlines, and possibly even the new Delta One Suites.
So, if you have some time off work and are ready for an adventure, look no further than the Aeromexico SkyTeam Go Round The World Award Pass.
It's a safe bet that surcharges will clear $1,000, but considering that you'll get 15 stops along the way, it's quite a deal.
Check out our guide to booking an Aeromexico RTW award — complete with an example booking — to make the process easier.
Singapore Airlines Suites Class Via KrisFlyer
While finding Suites Class award space is still a challenge, it's more than worth the effort. Whether enjoying a double bed in the sky with your significant other or traveling solo, you're bound to have a good time. I mean, they offer both Dom Perignon and Krug, you'd have to actively try to have a bad flight.
While there are a number of airlines that do catering well and allow you to preorder, Singapore Airlines doesn't just do it well, it excels. The preorder menu is absolutely massive and full of some great options including the famous Lobster Thermador.
Of course, the Singapore Airlines' crews are an area where the airline really shines. To a person, they are unfailingly friendly and helpful even on some seriously long flights. I don't know how they do it!
To book this experience to/from the U.S., you'll need 132,000 KrisFlyer miles one-way per person. Yes, it's a good chunk of miles but we have yet to hear from anyone who was disappointed they tried Suites Class. Don't forget that Chase, Capital One and Citi Thank You Points all convert into Singapore as well, so there's lots of ways to get your numbers up.
Mini Around The World Via Aeroplan
If you don't mind making a call to Aeroplan, you can book a mini-RTW award that will let you see three cities on a single award. To really take advantage of this, you can fly to Asia then continue to Europe before returning the states. All in, that will only cost you 155,000 Aeroplan miles round-trip.
What makes this great is that once you're in Asia, you could book cheap flights around the region before continuing to Europe on your Aeroplan award. Then, once in Europe, you can hop around on cheap flights or train around the continent before heading home.
Aeroplan passes on surcharges from some partners but there are a number of partners on which you won't have to steep surcharges including EVA, SAS, SWISS, Turkish, and United.
Delta One Business Class Via Virgin Atlantic Flying Club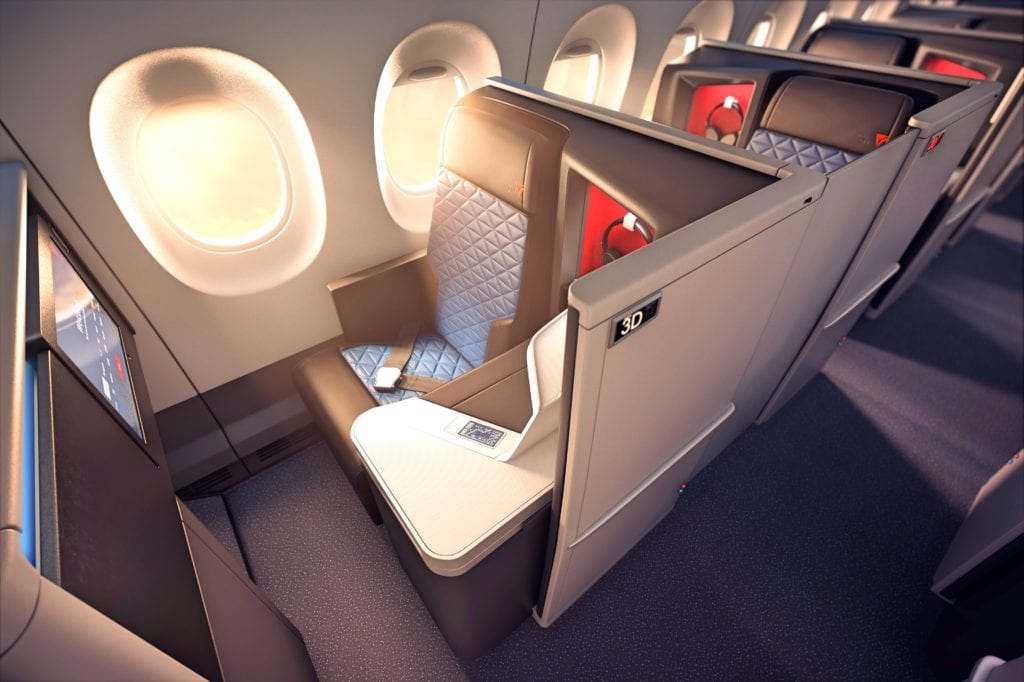 Whether you're booking business class on Delta to Sydney, Johannesburg, Tokyo, or somewhere in Europe, don't forget about the option to book with Flying Club miles. While the SkyMiles rates are nearly offensive, Virgin Atlantic offers much better rates.
While I like to rag on the U.S. carriers for their inflight products, you can still have a nice experience and get the non-stop flight you want to many destinations.
As a point of comparison, you can book a one-way award in business class from Los Angeles to Sydney for 75,000 Flying Club miles while Delta would require 100,000 SkyMiles. Yeah, the decision is pretty simple.
Fortunately, there are no surcharges on these awards so the cash cost will be low.
Leverage Amex Transfer Bonuses
If there's anyone who enjoys using more points to book an award ticket than they have to, I haven't met them. This is why I absolutely love when American Express runs a transfer bonus promotion with one of its transfer partners.
We recently saw a 25% transfer bonus to Aeromexico which meant you could book that around the world business class ticket fro 176,000 Amex points instead of 220,000.
Even better than that, Amex has run a 30% transfer promo to Virgin Atlantic Flying Club multiple times. With that, you could book ANA first class round-trip for only 93,000 Membership Rewards points from the east coast. From the west coast, you could book it for 85,000 Amex points.
I think you get the picture. Always keep an eye out for these bonuses.
How To Earn Amex Membership Rewards Points
There are three main reasons we like Amex points on the earning and burning side of the equation. First, Amex provides multiple cards that earn Membership Rewards points so you have options for all your spending needs, from 5X points on travel to 4X on dining. Second, if you time your application right, you can get a solid welcome bonus to start things off with a bang. Third: lots of ways like these to spend em and reap incredible travel rewards.
Final Thoughts
Hopefully, you're feeling inspired to use your Membership Rewards points for a special trip. Whether it's an around the world adventure or a simple round-trip somewhere close, we know you'll have a great time if you book any of these flights. Points make travel dreams into reality : )