Let's cut to the chase. Some links on this site pay us referral fees for sending business and sales. We value your time and money and won't waste it. For our complete advertising policy, click
here.
The content on this page is not provided by any companies mentioned, and has not been reviewed, approved or otherwise endorsed by these entities. Opinions expressed here are the author's alone.
Any bed on a plane is a wonderful thing, but it's the comforts of home that make it magic. For years, airlines have offered blankets which might as well be handkerchiefs to keep business class passengers warm and cozy in flight- but finally British Airways is raising the bar on bedding.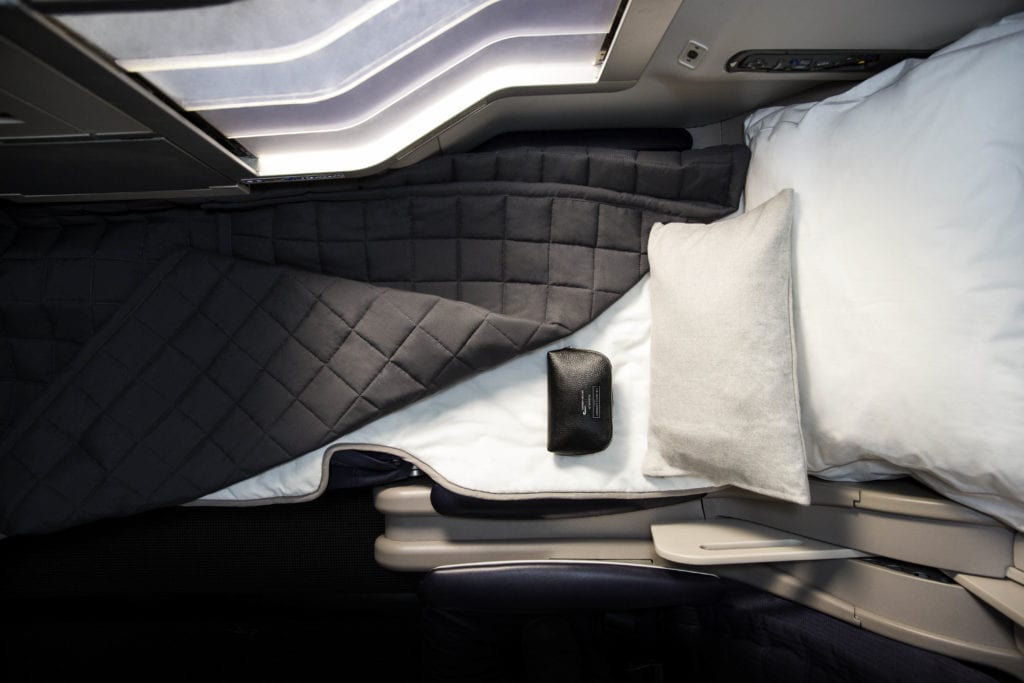 Partnering with iconic lifestyle brand "The White Company" British Airways Club World passengers on their London Heathrow to New York JFK and Newark airport routes will now experience the brand new bedding, announced just months before. The new "upgrades" include an additional padded mattress for sleep comfort, a high quality (fluffy) duvet, lumbar pillow and "luxury" pillow- whatever that means. Additionally, customers will receive brand new bespoke designed "The White Company" amenity kits. Other routes such as Los Angeles are on tap for the new service imminently. This is a welcome move for a controversial airline seat (click here for our tips) and service, but it's not the only positive.
New bedding is the second wave of Club World improvements. British Airways announced a new and improved meal service designed to be speedier and more conducive to taste buds in the air. We've had a chance to sample the service and find it to be a marked improvement, featuring stylish new glassware, a meal service cart to speed up delivery for appetizers and desserts as well as beverages. This is a much needed move, while British Airways awaits new aircraft such as the Airbus A350, where they'll debut their much needed new business class seat.
Some might consider these changes "lipstick on a pig", but whatever it is, it will be prettier indeed. British Airways cites quality of food and beverage, crew service and sleep quality as the three drivers for their Club World business class experience and these improvements are consistently moving in the right direction. Until the new seat debuts, we'll enjoy the new,  smoother ride.
Responses are not provided or commissioned by the bank advertiser. Responses have not been reviewed, approved or otherwise endorsed by the bank advertiser. It is not the bank advertiser's responsibility to ensure all posts and/or questions are answered.